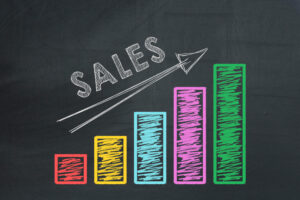 Summary
Three-year hose product range sales growth programme for a specialist supplier to the hire, construction and landscaping industry.
Benefits
Generated a growth in total hose sales of over 350%
Sales of like for like products grew 140%
Almost half the growth came from new products
New products accounted for 62% of the growth
Sales per product line increased by 40%
Customer has now qualified for the Winster Way loyalty scheme rewards
Background
Our client is a leading supplier to construction, and the hire industry.  Through a network of branches and an online shop they offer a very wide range of products focussed on machinery and related products, including a large selection of pumps.
In early 2016, we identified an opportunity to significantly grow their sales of hose products and agreed a long-term programme of support to achieve this.
Marketplace and business challenges
This market is very competitive, customers can compare with other suppliers online and want to be sure they can purchase the products they need at competitive prices along with related products and spares.
Product ranging is a big challenge; balancing the ability to meet all their customers' requirements without building excessive stocks of slow selling items that clog up the warehouse.
Demand for pumps inevitably soars in periods of extreme wet weather or snow melt, and our client needs to be able to respond to these demand peaks.
Outside of the top selling products, it is hard for buyers to acquire enough specialist knowledge or find the time to be sure which new products to list and how to generate demand for them.
Our plan
We agreed with our buyer to gradually extend the range of hoses, fitting and accessories, from their existing small range, bringing in new products to complement their range of pumps and meet the needs of their trade customers.
In conjunction with expanding the range of hoses and accessories, we began a programme of marketing support delivering high quality product images, specifications, and suggested links to other products to generate additional sales.
We also agreed to offer a "sale or return" guarantee on new products for the first 6 months to remove the risk of trialling new products.
Implementation
Together with the buyer, we reviewed the overall hose sales and performance of individual products on a regular basis, making recommendations for new product lines and those to be removed.
We also advised when to increase and decrease stock levels of those products with a highly seasonal sales profile.
Tracking
Sales were tracked on a monthly, quarterly and annual basis using the 2016 calendar year as a base.
Results
Total sales growth of 359% (2019 vs. 2016)
Products introduced since 2016 have delivered 62% of the growth
Like for like sales of products listed in 2016 grew by 140%
Average sales per product line +40%
Conclusions
Working in partnership with the buyer, Winster have shared marketing expertise, product knowledge and taken a shared-risk approach which has transformed the client's hose range, sales and profits, more than quadrupling sales over a three-year period, while ensuring a growth in sales per product line stocked.
If you would like to know more about Winster hose products, you can explore our website or call us on 01902 606010.