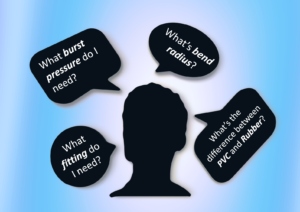 There are many different types of hoses, not to mention all the various connections and fittings that can be used with them.  Whilst some of our customers are very knowledgeable, others may find the choice bewildering and are understandably nervous of buying the wrong items and having lots of stock that does not sell or missing out on opportunities to offer products their customers really need.
As with any industry, hose has its own jargon, which can make it even harder to understand the difference between products and work out what is needed.  All the products on our website have summary information and a specification sheet, which should help ensure it's the right hose for the job.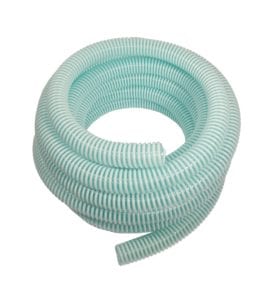 This information helps a wide variety of hose users, including general builders, landscape gardeners, electricians, plumbers, and the automotive aftermarket work out exactly what they need to buy and can also help resellers identify what they need to stock to meet their customers' needs.  It covers things like planned use of the hose, finding the right hose material, strength of hose, wall thickness, pressure and temperature ratings, sizes and storage.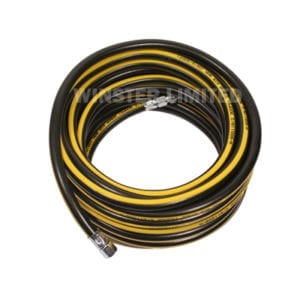 So, what does all this information really mean?  We have gone through all of the typical details provided below:
Specification – whilst all our hoses and accessories are made to consistently high standards, some applications have independent standards e.g., ISO.  Where this is relevant, our product information will include details of any standards met.
Application – the most common uses for this type of hose.  Typically, the information will indicate the industries that commonly use the hose and what the hose is used to move, for example water, oil, chemicals etc.
Tube – a description of the hose and any specific capabilities.  This will usually specify what the hose is made from for example Natural Rubber, PVC, Nitrile Rubber (NBR), Styrene/ Butadiene (SBR) or Ethylene Propylene Diene Monomers (EPDM). Each of these materials has different strengths which make them better suited to specific applications.
Reinforcement – many of our hoses have a form of reinforcement to strengthen them.  This can include different materials, or a blended composition.  Some hoses have a braided wire or other material, some are reinforced with a helix structure.  Reinforcement is generally used to help the hose withstand higher working pressures.
Cover – what the outer surface of the hose looks like, colour and any specific characteristics, e.g. resistance to abrasive surfaces, smooth or corrugated surface, temperature or specific materials like oil, solvents or corrosive chemicals.
Branding – some of our hoses have a code printed or embossed on the external surface.  This is most common where the hose is compliant with an independent standard.  For example, our Air Brake Hose is branded as "W=BSAU 110A/A SAEJ1402/A Size Airbrake".  Many of our branded hoses also show the calendar quarter and year of manufacture.
Internal Diameter (I.D.) – this is the most commonly quoted "size" of the hose, and refers to the internal diameter, or "bore".  Measurements may be expressed in metric (mm) or imperial (inches) units.  Many of our hoses are available in a wide variety of diameters.
Outside Diameter (O.D.) – this is the external diameter of the hose, i.e., the internal diameter plus the thickness of the hose itself.  Tip – to calculate the wall thickness of the hose take the difference between the O.D. and I.D. and divide by two.
Working Pressure (W.P.) – usually expressed in BAR or PSI (or both), this shows the standard working pressure of liquid or gas that the hose is designed to handle.  If connecting the hose to mechanical equipment for example pumps or gas cylinders, the working pressure must be compatible with the device. Top Tip – to convert between the two measures, 14.7 PSI = 1 BAR
Safety Factor – this ratio effectively shows the peak pressure the hose can withstand before bursting.  For example, a hose rated as 6 BAR (90 PSI) Working Pressure (WP)with a safety factor of 3:1 would be expected to burst at 18 BAR (270 PSI).  The hose should still be selected on the basis of the quoted Working Pressure, but the safety factor gives protection against short-term fluctuations in pressure above the quoted WP.  Watch Jason's short video for an explanation and to see how we test the safety factor of our hoses and assemblies.
Bend Radius (BR) – this effectively shows how tightly the  hose can be looped without damage.  If you imagine bending a hose in a circle, the bend radius represents half the diameter of the smallest circle that can be safely achieved.
Coil Length – this shows the standard lengths in which we supply the hose.  Some of our most popular hoses are available in several lengths and we provide a range of fittings which enables some hoses to be connected together to increase their range.  Hoses are either extruded or built with a  mandrel.  "Mandrel" hoses are normally a maximum of 60M and have an external cover that looks like it has been wrapped, giving a slight ridged surface.  Extruded hoses can be referred to as "Long" length hoses, as they can be made in longer lengths than a mandrel.  They normally feel smooth and are available in lengths of up to 100M.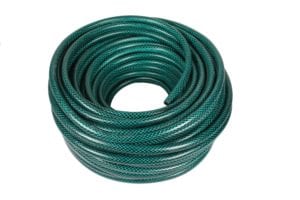 All of the information is available to our reseller customers for them to use in their own brochures, catalogues, or websites to share this valuable information with their customers.  Our specification sheets can easily be repurposed too.  It's all part of the way we work with our resellers to support their success.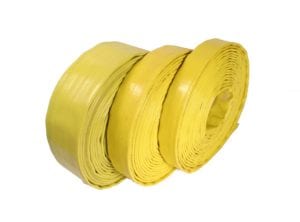 Of course, if you would rather discuss your specific requirements with one of our team, just use the contact form on this website or call us on 01902 606010.
We work collaboratively with our resellers, sharing our expertise to help them find the additional sales opportunities and build customer loyalty.  We take the risk out of trying new products and can also advise on seasonal products for example when the rains arrive!
Of course, as we work exclusively with resellers buying wholesale quantities, we also offer very competitive prices and further discounts for larger quantities.  If you would like to find out more about our ranges, wholesale prices and how we could help you sell more hoses, please give us a call on 019020 606010 or use the contact form on this website.  Alternatively, please browse our full range of products, fittings and accessories.