CLEARANCE DEAL – HOSE TROLLEYS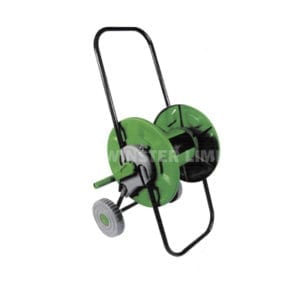 Convenient hose cart with wheels, fast & easy to assemble
No-tools snap together assembly
Ideal for all sizes of garden
Stores 1/2″ Garden Hose
Angled connection prevents hose kinking
Revolving connector axle stops hose twisting
Rust and corrosion resistant
Winding handle
Pallet deals are now available on this item while stocks last:
£250 for a half pallet (6 boxes of 6 trolleys; 1.2m height), excluding VAT and carriage.  RRP £14.99
£350 for a full pallet (9 boxes of 6 trolleys; 1.8m height), excuding VAT and carriage.  RRP £14.99
Smaller quantities may be purchased as part of a multi-product single order with a total value of £300 of more.
As with all clearance offers, there are limited stocks of this product, which is competitively priced and further discounts are available for larger order quantities.  For details of prices and stock availability please call us today on 01902 606010 and ask for Val or complete the short online contact form.
Not quite what you are looking for?  See our other clearance deals or our full product range
For any other enquiries please call us at Winster hose on 01902 606010 so we can understand how we may be able to help you.