Winster is one of the UK's leading hose and assembly suppliers dedicated to providing both industrial and commercial hose and assembly solutions to a wide range of applications. With over sixty years of experience under our belts, our team have accumulated an in-depth knowledge and understanding of the trade, which enables us to offer expert advice to all of our customers. We have a wide range of hoses to choose from here at Winster, so whether it's for a small or large scale project, we will be able to provide you with the perfect solution.
Customer Service – Going the Extra Mile
While we have had over six decades to gain a wide understanding of hoses, we understand that many of our customers will be new to the trade. Here at Winster, we believe in going the extra mile for our clients to ensure they get the perfect experience with our company. All of our first-time clients will be assigned an account manager from our team who will thoroughly assess your requirements and the job you need a hose for. After this assessment, your account manager will use their knowledge to determine the most appropriate product for the job. This process ensures that all of our customers are leaving Winster with a product that ticks all the right boxes.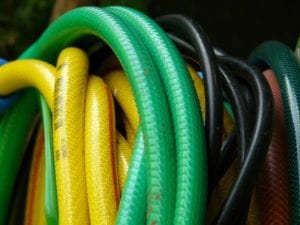 Wall Mounted Hose Reels
We have an extensive selection of hose solutions here at Winster, including a wall mounted hose reel. A wall mounted hose is specifically designed to create ease of application and convenience for those who regularly use their hose weather it's your garden hose or one at work. Constantly taking out the hose and then having to put it back in storage again can be a time consuming task, so a mounted hose reel nearby could be the perfect solution. A wall mounted reel enables you to unravel and then tidy away your hose fast and efficiently saving you time to use on other important tasks.
Mounted Hose Reels at Winster
Our wall mounted hose reels can store hoses of up to 75m in length and are made with steel for strength and durability. Complete with a fixing wall bracket, these wall mounted hose reels can be installed then used in no time at all!
If you are interested in finding out more about our wall mounted reel for hose storage here at Winster, call us today on 01902 606010. Alternatively, you can visit our website at wall mounted hose reel.
If you have found this blog helpful, you may wish to read our previous blog on Suction Delivery Hose