CLEARANCE DEAL – STANDARD AIR HOSE 15M (50FT)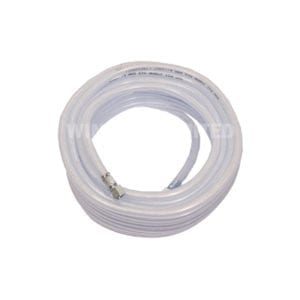 Transparent PVC
Reinforcement is Synthetic Textile
8mm ID
1/4 inch BSP fittings
Working Pressure: 20 bar / 300 PSI
Temperature range -10C to +60C
Safety Factor 3:1
Colour: Clear braided
Half Pallet deals are now available on this item while stocks last:
£510.40 for a half pallet (160 coils, 1.2m height), excluding VAT and carriage =  £3.19 per coil (ex. VAT)
Smaller quantities may be purchased as part of a multi-product single order with a total value of £300 of more.
This clearance stock is dated 2015 which is when it was manufactured and shipped to our warehouse.  Since then it has been stored in a controlled environment, protected from direct sunlight and extreme temperatures, in accordance with the manufacturer's guidelines.  Our batch testing quality programme ensures that a sample from each pallet of stock has been recently tested.  A test sheet will be supplied with each delivery.
As with all clearance offers, there are limited stocks of this product, which is competitively priced and further discounts are available for larger order quantities.  For details of prices and stock availability please call us today on 01902 606010 and ask for Val or complete the short online contact form.
Not quite what you are looking for?  See our other clearance deals or our full product range
For any other enquiries please call us at Winster hose on 01902 606010 so we can understand how we may be able to help you.