Here at Winster, leading hose assembly suppliers, we are proud to have a wide range of assemblies to offer our customers. Our great range means you can be sure to find exactly what you need with us. Not only do we have a fantastic selection of assemblies, we also have a trusted group of suppliers to get the best value on every product. On top of that we believe in fantastic customer service and our team will always ensure you find exactly what is you're looking for without the sales pitch. We'll make shopping for hoses and assemblies easy, fast and hassle-free.
Hose Assemblies at Winster
As hose assembly suppliers we offer a series of different assemblies that have a multitude of purposes alongside ensuring the hose fitting is safely secured where it needs to be.
Crimping – Crimping is most suited to accommodate gas hoses and air hoses. It is ideal for low pressure devices and small-bore applications where hoses are used in light-duty environments such as garages or general industrial sites. Our crimping ferrules are a simple yet efficient way of creating a metal sleeve over the hose tail fitting – protecting the area whilst ensuring the fitting is safely secured.
Swaging – Contrary to crimping, swaging is a solution specifically designed for high pressure hoses within heavy-duty environments. Assembles such as jetting hoses are the ideal application, alongside other hoses which undertake drainage requirements. Swaging involves using a machine to swage the ferrules which are then used as a protective sleeve to the hose tail.  
Bandit Clamps – These clamps are purpose-built to ensure fittings are aligned and safety fitted into the hose. The clamps are ideal for suction hoses and layflat hoses and are an extremely cost-effective solution.
Alongside these hose assembly solutions, assemblies can also be fitted manually with clips and clamps – suitable for low-pressure equipment.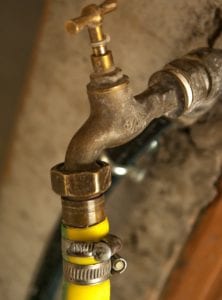 Hose Assemblies Suppliers – Choosing Winster
If you are looking for reliable and experienced hose assembly supplier, visit our website to find out more about what we can do. Alternatively call 01902 606010 to speak to a member of our helpful and friendly team.
If you have found this blog helpful, you may wish to read our previous blog on Oil Suction.